In order to confirm your arrival, please do not forget to call our toll-free number from any public phone booth when you first reach the baggage claim area (no cards or change are required):
0800 234 679 (0800 CDG ORY)
Note: This number will not work from a cell phone.
Pick-up spots are the following:
Roissy Charles de Gaulle Airport
Terminal 1: Exit 16 on Departure Level
Terminal 2: Hall A and Hall C : Exit 8
Terminal 2: Hall B and Hall D : Exit 5
Terminal 2: Hall E and Hall F : Exit 8 lower level
Terminal 3: in front of the main exit door
Orly Airport
Orly Sud: Exit M
Orly Ouest: Exit H
Beauvais Airport
In front of the main exit door.
Train Stations
At the front end of your train's arrival platform
(look for driver with Airport Connection sign).
Book Now • Request a Group Quote • Contact Us • Version Française
This is what the vehicles in our fleet look like: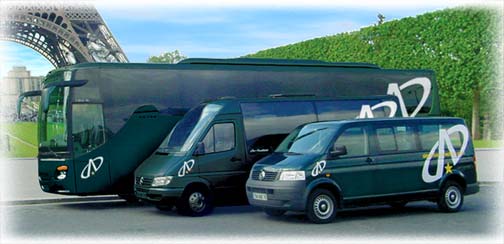 49-person coach • 15-person minibus • 8-person minivan